April 24, 2023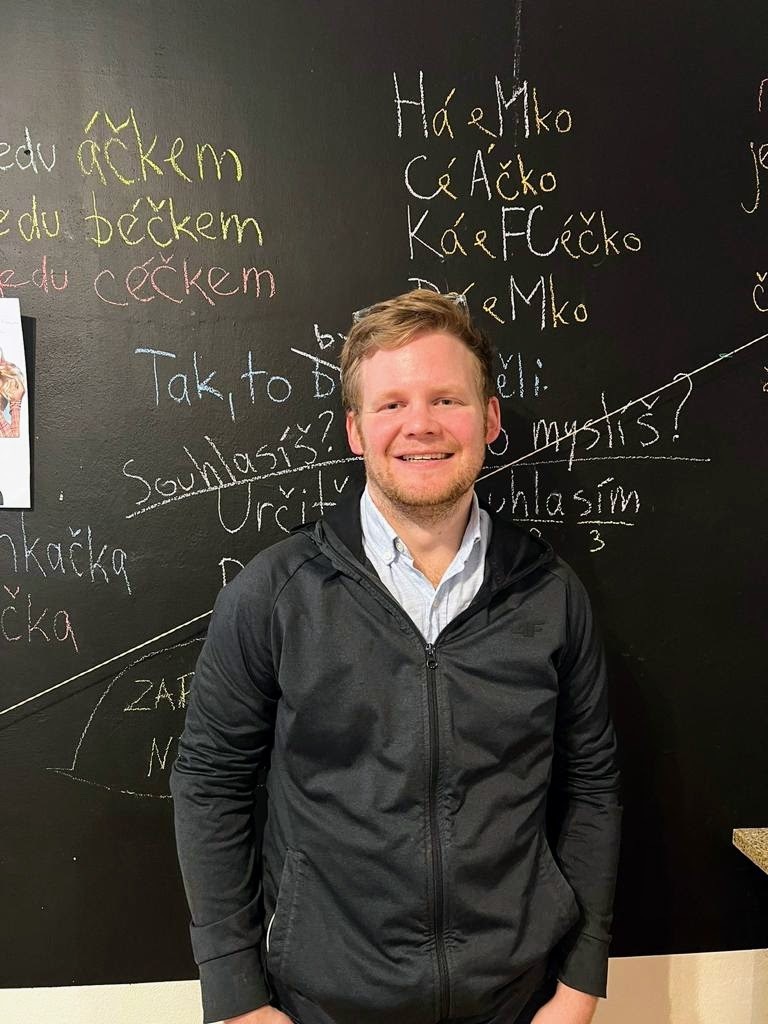 Daniel – a Canadian, living in Prague for 7 years, decided to start his journey of preparation for the permanent residency exam at Czech Courses Prague with zero knowledge of the Czech language.
He is a great example of how hard and consistent work can help you reach your goals.

---
Daniel is a real expert in Czech classes at our school as he tried all the offered possibilities.
In September 2021, he joined the intensive course for beginners and afterwards, switched to individual classes 4 times a week.
After a while, Daniel also added an evening biweekly course to brush up on his knowledge for the exam.
Daniel, why have you decided to learn Czech and take the A2 state exam?
I wanted to become a permanent resident in Europe, and not worry about the visa all the time.

Why did you originally come to the Czech Republic?
It was for work. I thought: in the worst scenario, I will be there for a month, and in the best, I will still be here. And it turned out that way. Now it will take from 3 to 6 months for me to get my residency, but I am glad. I love living in the Czech Republic and it has become home.

How did you prepare for the exam and what helped you most?
My teachers Anička and Karolína sure helped me the most! I've taken a lot of Czech classes for the last 18 months. I also listen to different podcasts like Učím se česky, Čestina s Michalem, and I listen to songs by Hana Zagorová. Usually, I just go somewhere and listen to get some practice.

How long did it take from zero level to successfully pass the exam?
It's been a long time from September 2021 to March 2023! But it is logical as Czech was and still is very complicated for me. Now I am aiming for the B1 exam.

Was there anything that surprised you about the administration of the exam that you would like to warn others about?
I didn't know what to expect. I'd never done a language exam before. It was an intense situation that made me stressed, but in the end, I made the committee laugh by saying that kids were drinking beer at the restaurant, so it was good overall.The people there were nice, but still, everything was very structured, and you had a certain amount of time for every task. I didn't expect the police to come to check on us, but it happened.

When did you register for the exam?
I originally registered in September for March, because there are no spots anyway and I just saw the date and went for it. I was checking the webpage every day. Plus, they do the test only Wednesday and Saturday which makes no sense.

What was the easiest part of the exam for you?
Haha :) If only I could say that something is easy in Czech... Probably the reading part and then the listening. It was kind of surprising.

Do you have some Czech friends, so you can practice your speaking skills?
Yes, I do. It is nice to try to integrate as cultures are very different. Beer is cheaper than water, water is free in Canada and beer is expensive. People are friendlier in Canada. And there is more customer service, which can be quite annoying sometimes. In Prague, you can ask for help just when you need it, so you keep your barriers which I find nice.In Canada, things are super politically correct and you don`t get honest opinions from people, and in that way, I think Czechs are a lot more honest, which is very refreshing.
What was the hardest for you while studying during this period?
Pronunciation and grammar were the hardest as we don`t have that stuff in English and nearly every word with "ř" is complicated. However, it is my hobby now, so I want to do the B1 soon. I like the approach of your school and how structured everything is. We always have some plan coming together with the lessons and in case I don't get something, my teachers do everything it takes to explain it.
Thank you, Daniel, for talking to us.
A držíme palce na B1! :)